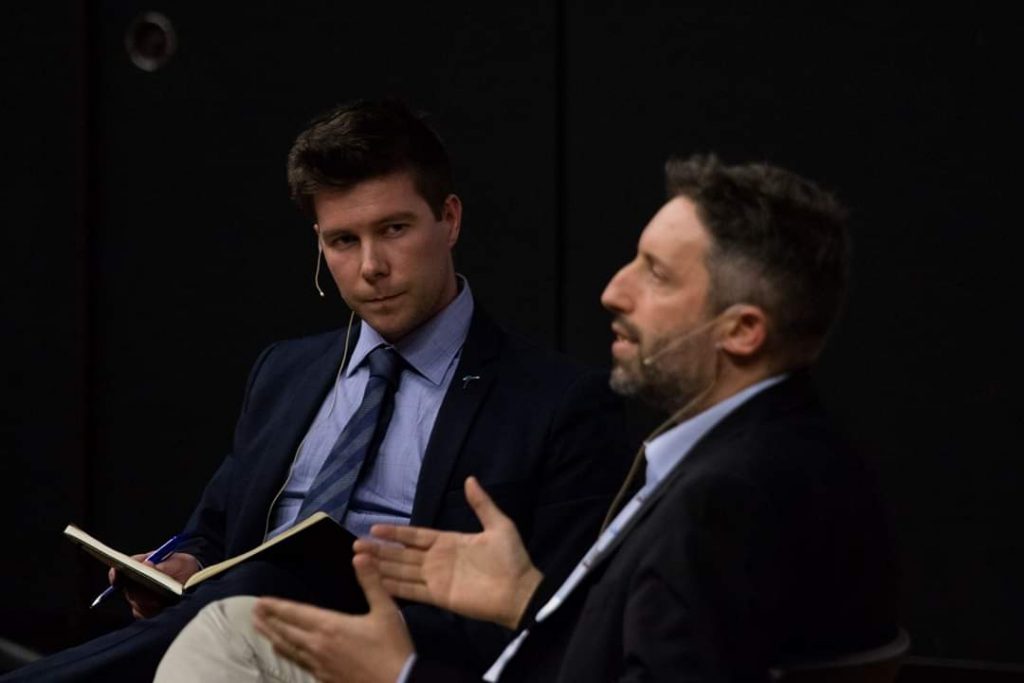 We recently sat down with the 2019 AYAA President, Conor MacDonald to talk about his experience with the AYAA over his 4 years with us. You can find out what he had to say below and see some the highlights of his time with the AYAA.
What got you into the aerospace industry?
I really like that the aerospace industry is a high-tech, R&D type of industry. Most (if not all) aerospace companies work at the cutting edge of technology, working with the latest hardware and the best software tools. This is the type of work I wanted to do when I left university and I am very fortunate to have a role where I get to do this day-to-day. Aerospace also has a very rigorous approach to engineering as safety and risk are of paramount importance. Working in this industry requires you to develop a rigorous, analytical approach to your engineering.
I also love sci-fi media that captures my imagination and creativity. Franchises like Star Wars, Star Trek and Stargate really challenge how you think about STEM and what is actually possible in the very near future. I would like to be involved in developing the next cutting edge technological advancements that will further human space exploration and lead to human space colonisation. Those areas really excite me and that's why I enjoy being part of the aerospace industry.
How did you first hear about the AYAA?
I first heard about the AYAA in 2015 when I saw an email from my university about the Aerospace Futures conference being held in Melbourne. I was looking for an opportunity to meet like-minded people who are passionate about aerospace, so I decided to take the risk and head to Melbourne for the conference. I went by myself with no idea about the AYAA or anyone attending. I was very much out of my comfort zone and I wanted to prove to myself that I could step out of my engineering shell and meet other young Australians. That event was a turning point for me in how I acted in a professional context. I made a lot of friends at that event in Melbourne way back in 2015 and was able to successfully get out of my comfort zone to shake hands with professional engineers and have conversations with people who I wouldn't have spoken to otherwise.
I liked how the event was run and how the organising team were very much the superstars of the event; getting to meet all the speakers, interacting with all the delegates and getting well-deserved credit for running the whole show. I wanted to be like that. When I got back to Adelaide, I met up with some of the people I'd met at the conference and we re-invigorated the SA committee. I was elected as the SA Representative at the following AYAA AGM and I've never looked back.
What positions have you had with the AYAA?
I have had a variety of roles in my 4 years with the AYAA. I started with the SA Representative where I also did some work coordinating the Young Australian Space Leadership scholarship where we send several young Australians to the International Astronautical Congress every year. Next, I was the National Treasurer and learned a lot about business and finance within the AYAA. It was in this role that I first floated the idea of a national university rocket competition to the AYAA who told me to form a small team and develop the idea further. The following year I was the inaugural Operations and Projects Manager; making sure the Chairs of Aerospace Futures and the Australian Youth Aerospace Forum were well supported. The same year we started up the AURC and I was very hands-on supporting that inaugural committee to execute another great AYAA event. This year (2019) I was the President of the AYAA; involved with the strategic direction of the organisation in addition to supporting and mentoring several committee members.
My favourite position would have to the President of the AYAA. I really enjoyed the strategic thinking the position carried and the business development I did to bring more interest from industry.
What memories with AYAA stand out to you?
Tough question! Certainly, the first AURC was a highlight for me. Seeing a project that I developed from the beginning and working with a great bunch of people to positively affect hundreds of students around the country is definitely a highlight. Upwards and onwards young Australians!
Aerospace Futures 2018 in Canberra was also fantastic. I networked with a variety of politicians, defence heavy-weights and aerospace VIPs. My favourite moment was interviewing Sabre CEO, Dr. Jason Held, live on the conference stage. Jason is a really cool guy and we've caught up whenever I've bumped into him at other major aerospace events in Australia.
What are your proudest achievements with AYAA?
Setting up the AURC
Recognising that mental health issues are a problem with young Australians and putting in process within AYAA to reduce those issues within our team
Mentoring a great bunch of people to be better communicators, engineers, and thinkers
Stepping out of my comfort zone 4 years ago in Melbourne
Developing a great network of friends, peers, and like-minded young people who are want to challenge the world and improve the aerospace industry
What opportunities has AYAA given you?
I am very fortunate to be employed at a company that I love. I landed this job through a friend that I met in Melbourne at the 2015 Aerospace Futures conference. At the time I had just quit on post-graduate studies and was looking for work. Within a week and a half, I had an interview and was signing my contract with Shoal Group.
My personal and professional network has dramatically grown through my involvement with the AYAA. My network of friends and peers now extends all over the world and I am confident that it will keep growing. Without the AYAA I don't think I would have such a bright future within the aerospace industry.
What opportunities have you given others during your time with AYAA?
The AURC is a very cool program and gets young Australians into a hands-on program that many universities don't offer. The AURC will upskill many young Australians over its existence and will be a key driver of our future workforce for the aerospace industry. I am very proud that the AURC was an AYAA initiative and am looking forward to the new businesses, new careers, and new innovations that spin out of some of these student teams. Powerful stuff.
Why should someone join the AYAA committee?
Networking. This exciting group of people are the leaders of tomorrow. Their alumni stretch all over the world and are very prolific in the aerospace industry. You could call them some form of space mafia – everywhere you turn, the AYAA knows someone there. If you don't think you're a good networker, watch a YouTube video. That's what I did when I was first starting. Networking was the most important skill I gained at the AYAA.

I underestimated networking when I was in my early university years, but after joining the AYAA, I understood the power of networking and how it can help you land a job/career. Networking with people your age, people in your industry, and even people outside of your profession but in the same industry has helped me in many situations.
What does an AYAA presidential breakfast look like?
Normally I am happy with a black coffee and toast for my 9-5 grind, but on weekends I do like to treat myself with a bagel from my local breakfast hangout at Plant 4, Bowden, South Australia. My ideal bagel is; toasted; tomato relish and avocado spread on either side; bacon and one fried egg; fried halloumi; topped with rocket. Mmhmm